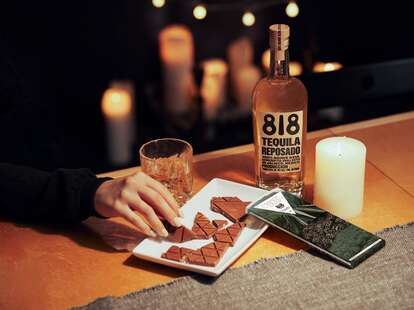 Courtesy of 818 Tequila/Compartés
818 Tequila burst onto the scene in 2021 with famed founder Kendall Jenner at the helm, but now that the brand has won the hearts and tastebuds of Blanco and Reposado loyalists alike, it's taking on a new category, chocolate.
In an equally unexpected and exciting twist, 818 partners with fan favorite Compartés Chocolatier for the world's first tequila-infused chocolate bar. The creation, dubbed Toffee and Tequila, was inspired by the couple's mutual dedication to quality ingredients and celebratory moments of life.
dir="ltr">"We are delighted to partner with Compartes to create this Toffee & Tequila chocolate bar this holiday season," said 818 Tequila founder Kendall Jenner in a press release. "As tequila continues to grow in popularity, this collaboration shows just how perfect our delicious 818 Reposado is for both gifting and gathering with loved ones."
The tequila caramel bar has a milk chocolate base with caramel bits, a sprinkle of sea salt and 818 Reposado Tequila, which adds the perfect touch of vanilla caramel to the chocolate bar. You can get the Toffee and Tequila chocolate bar online starting December 1.
"We are very excited to introduce Compartés' tequila-infused chocolate bar in collaboration with our friends at 818 Tequila," Compartés creative director and head chocolatier Jonathan Grahm added in the statement. "Handcrafted with the highest quality ingredients, just like our chocolates, 818 felt like the perfect natural complement to partner with these delicious tequila-infused chocolates that will be the most memorable gift this holiday season… this toffee and tequila bar is warming, festive and conjures thoughts of a magical holiday eve in every bite."
The launch comes on the heels of 818 Tequila's foray into the prestige category with its highest-priced Eight Reserve, an ultra-premium Anéjo blend that hit liquor stores in September.
Do you want more Thrillist? Follow us on Instagram, TwitterPinterest, YouTube, TikTok and Snapchat.
Megan Schaltegger is a staff writer for Thrillist's news team.