Thousands of people have seen the moment when a Golden Retriever helps another dog feed 12 puppies.
According to a viral TikTok video posted by @scoutslegacygoldens, her dog Nova, a Pyrenean Mastiff, had more puppies than she could handle.
Over 194,000 people watched a video showing Nova being helped by Brookyln the Retriever.
Their owner, Amanda Jean Pratt, admits that she initially thought the idea would be doomed. Since then, it has been liked by over 32,000 people. You can watch the video here.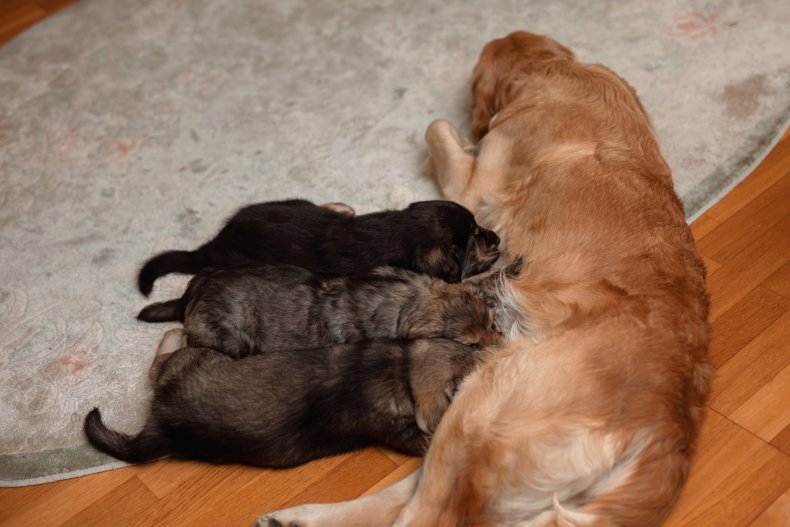 The video states, "The Pyrenean Mastiff breed is an old and unpopular breed for guarding livestock. My Golden's bond with these giant dogs is a perfect fit for our household. My focus is the Golden one and my best friend's focus is this rare breed.Our support for each other is huge and our dogs carry that on."
Pratt noted that Nova spent "one-on-one time" with the puppies before Brooklyn helped provide colostrum, the "first production of the mammary gland that plays a pivotal role in puppies and kittens."
According to the National Center for Biotechnology Information, "Colostrum is an important source of immunoglobulins, and important nutrients such as lipids and carbohydrates are essential for the health of newborns. Puppies and kittens receive adequate amounts within hours of birth. colostrum from birth to ensure their survival."
She also calls Brooklyn a "great mom." This is important when finding a suitable surrogate mother for your puppy.
Olivia Knight wrote a blog post on the Daily Puppy website stating: The surrogate must have recently given birth and is still nursing. Use extreme caution when introducing the surrogate to the puppies. For safety, mothers with puppies should be closely supervised."
Hundreds of TikTokers commented on the adorable video, with one user writing:
One user has a similar but very different experience and is not surprised by the video…"
Before, Newsweek I shared the story of a dog breastfeeding a kitten.
Newsweek I asked scoutslegacygoldens@ for comment. Details of the incident could not be confirmed.
Have a funny and adorable video or photo of your pet you'd like to share? Send it to life@newsweek.com with details about your best friend. It may appear in this week's pet line-up.