A video of a "fluffy" Golden Retriever hugging a grandmother has been viewed by two million people in just 24 hours.
In the viral TikTok video posted on @dempseypluspippa, a page dedicated to two Goldens, they can be seen hugging a grandmother and another woman.
The clip captioned: "Somehow they know when to be nicer" has amassed more than 498,000 likes at the time of writing.
The dog's owner expressed her concern by adding the following text to the video, it read: "Took the pups to visit my grandma and was so worried they would be too rude/crazy."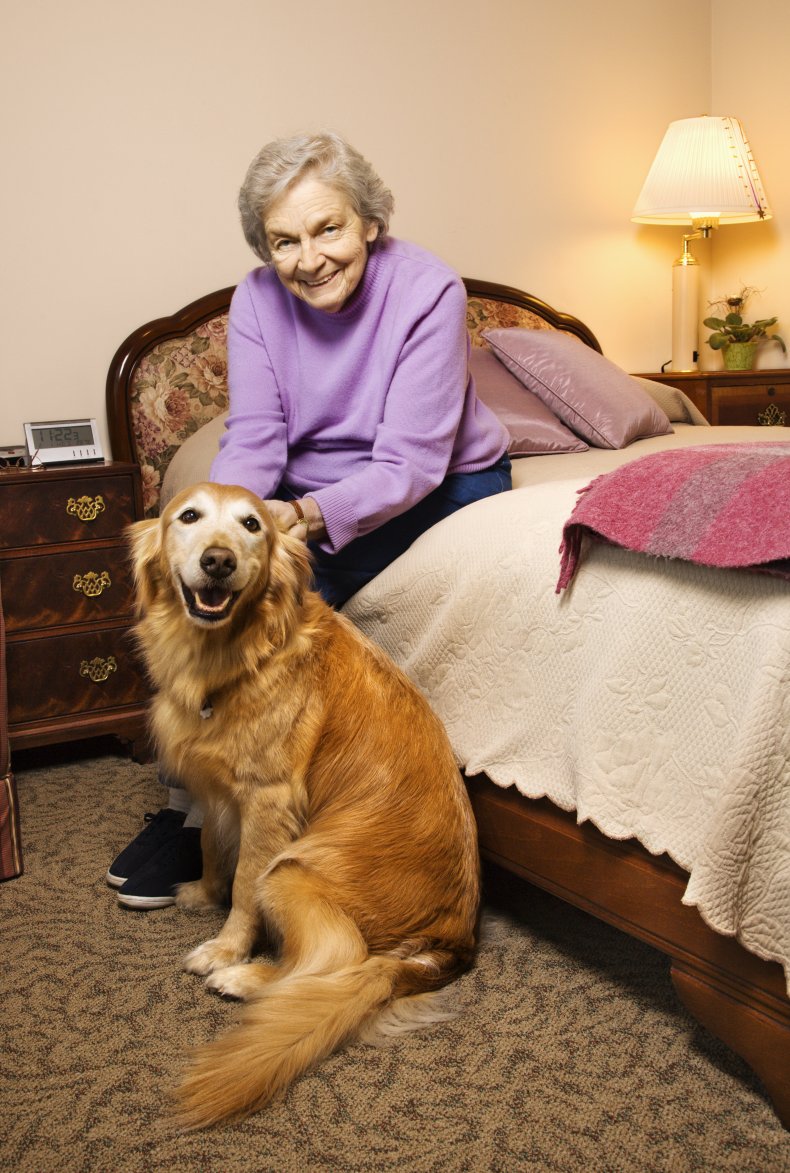 But they were the complete opposite, and can be seen snuggling up to the grandma who seems delighted.
A dog can be a great companion for people of all ages, but there are a few things seniors should consider when looking for a furry friend.
According to Great Senior Living, a website with senior care tips, older people prefer a smaller dog, as this means shorter walks and "easier to keep under control." An older dog may also be more suitable, as puppies are "overactive and tend to chew and bite."
The website notes that "mature dogs also tend to be the calmest dogs, with more predictable behavior patterns."
In 2020, the website published an article titled: "18 Good Dogs for Seniors Who Want or Need a Furry Companion."
A poodle was recommended as the best companion for a senior, followed by a Cavalier King Charles spaniel and a Boston terrier. The website strongly recommends small breeds such as corgis, Chihuahuas, and Maltese. But for the more active seniors, a Golden Retriever makes the list.
"Golden Retrievers are gentle, friendly, and people-pleasing, respond well to training, and are well attuned to the emotional needs of humans, making them among the most popular therapy dog ​​breeds. They are best suited to styles They lead active lifestyles and love to run, hike, and swim. If they get enough exercise outdoors, they can be quite easy-going indoors. They like companionship and are known for their patience with all kinds of people," the website states. .
Over 1,300 people have commented on the video and it seems Dempsey and Pippa aren't the only canines adjusting their sweetness.
One comment racked up more than 40,000 likes, it read: "My pup adjusts how hard he plays tug of war depending on who's playing, kids and old people. So gentle. Men in their prime? War."
"They know. My dog ​​would always jump on my dad every time he came home. Now that my dad is sick with cancer, my dog ​​literally tiptoes around him," said another.
Another person wrote: "My aunt has a pity she will literally knock you to the ground with love EXCEPT my niece. She treats her like she's glass, they just know!"
"Golden, seriously, they are the best! So gentle, so sweet!" said another.
news week reached out to @dempseypluspippa for comment. We were unable to verify the details of the case.
Do you have funny and adorable videos or photos of your pet that you want to share? We want to see the best! Send them to life@newsweek.com and they could appear